St. Jude Joy of Life Ball
The 4th Annual Wind Creek Hospitality "Joy of Life" Mardi Gras Ball benefiting St. Jude Children's Research Hospital will take place on Saturday, February 11th, 2017 at Fort Whiting, Mobile Alabama. The 2017 gala will present St. Jude patients as King and Queen. The "Joy of Life" Mardi Gras Ball will showcase the culinary skills of Mobile's most amazing chefs and restaurants such as Naman's Catering, Dauphin's, Zea's,The Melting Pot, fully stocked open bars, live and silent auctions all while raising funds for the St. Jude Children's Research Hospital.
ENTERTAINMENT
Rubiks Groove will rock the night for the second year in a row- you don't want to miss this ultimate 80s show!!!
AUCTION
Come prepared to bid in our silent and live auction. Items included exotic vacation packages, artwork from local artists, a Carnival cruise, and much more. Please visit our auction page for a full listing of items.
ATTIRE
The attire is white tie.
Click here for full event info and ticket purchase!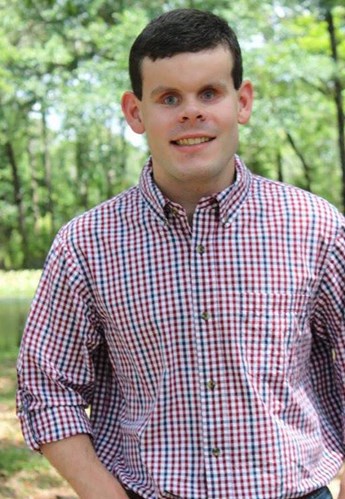 KING JACOB SIMONS
Five days before Jacob turned 2 years old, Jacob's family got the news every parent fears - that he had cancer. They ran multiple tests to confirm the cancer was just in his eyes - a cancer called retinoblastoma. He fought it for a year and lost his right eye, then fought it for another year and lost his left eye, so he was completely blind by the time he was four years old. Today, Jacob is 19 years old and has been cancer-free for 14 years!
"He never complains," said his mom, Jessica. "He has helped me more than anybody will ever know. It's been hard for me to let him do things, but who am I to hold him back? As much as I want him at home, it would be selfish of me to keep him from having an opportunity to better himself. He may be good at something, and how am I going to know unless I let him try? He does the standing long jump, shotput, and softball toss in the Special Olympics. He's been on the wrestling, soccer, swim, and track teams at school. He rides horses. He ran an entire marathon," she said. "He was also the only student in the entire school to make straight 'A's last year. Jacob loves life. Now he's trying to convince me to let him drive!"
"I promise I won't burn too much rubber," said Jacob, grinning at his mom.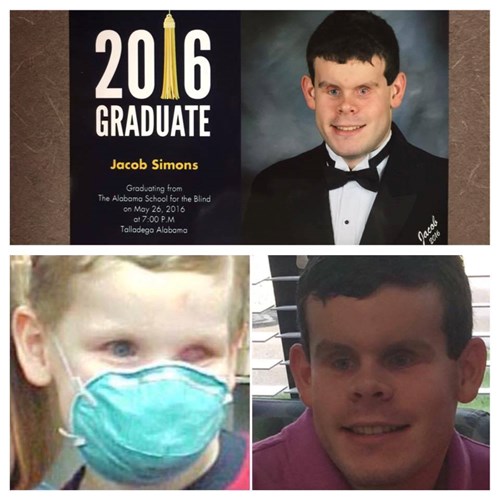 He graduated from the Alabama Institute for the Deaf and Blind in Talladega, Alabama in May 2016, and he'll be attending college in the fall. He enjoys hunting, fishing and is such a talented artist. In fact, Jacob won the Helen Keller Art Show, and the painting is now hanging in the Tennessee Valley Museum of Art in Tuscumbia County.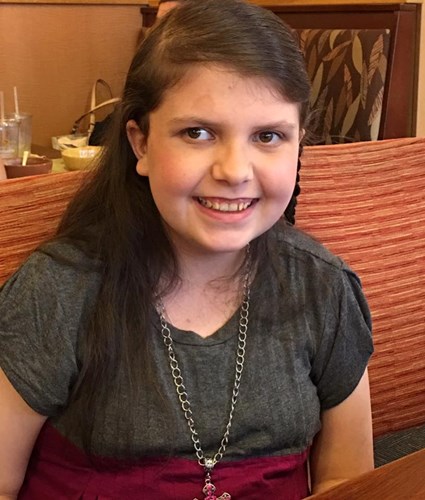 QUEEN LINDSEY CRAWLEY
In 2005, Lindsey had what her family thought were birthmarks. When she went for her yearly checkup, that's the first thing the doctor noticed. Lindsey was sent to the optometrist, and that's where she saw the blanching on the optic nerve. The doctors diagnosed this as a neurofibromatosis type 1 - a disease that can cause types of tumors in the brain. Doctors in Lucedale, MS referred her to St. Jude Children's Research Hospital in Memphis - where she received treatment at no cost to the family. Lindsey went through chemo and radiation. She cannot have any more high-dose radiation - she has had the max one person is allowed. The tumor has pressed on areas of the brain that have affected growth and development. But thankfully, the tumor is stable for now.
Lindsey is 17 years old (turning 18 in November), and she has such a giant personality! She loves owls and crowns and 'love' is an understatement when it comes to her passion for Elvis Presley. We are so excited to celebrate Miss Lindsey and crown her as our Queen on February 11, 2017!

Dan & Shelby
Want to know more about Dan & Shelby? Get their official bio, social pages & articles on 95KSJ!
Read more