If there's anything college students are good at, it's inventing new and exciting ways to drink beer, from shooting the boot—sipping suds from a disgusting, used rugby cleat—to Beerios-ing, a.k.a. dowsing your morning cereal in ale. While attending college ( gulp) a decade ago, I certainly participated in some stupid-but-classic beer-drinking games like beer pong and flip cup, but I was still shocked to discover a next-level revolting method for quickly chugging a beer: through one's nose.
Early yesterday morning, local North Carolina television station Sports Channel 8 tweeted a video of an East Carolina University football fan drinking a can of beer through his nose. The unnamed doofus, who was attending the Greenville university's Saturday home game against Norfolk, Virginia's Old Dominion University, is clad in an ECU polo shirt and holds his right nostril shut with one hand while pouring a Bud Light—of course—into his left nostril. As the malty elixir drains through his nasal cavity and into his throat, he makes some disturbing fish-out-of-water swallowing motions which, appropriately, appear to elicit horror in a nearby small child. "Never change, ECU. #nosechug," Sports Channel 8 captioned the video.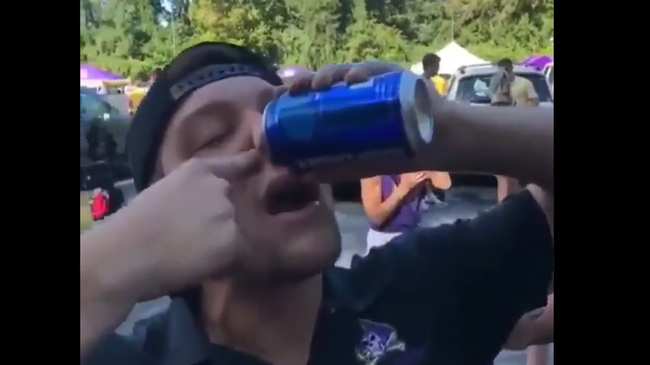 Bill Black
Want to know more about Bill Black? Get their official bio, social pages and articles on 95KSJ!
Read more