95 KSJ invites you to see the top players in college football during this year's Senior Bowl this Saturday, February 5th! Check out Game Week events here. Game Day events are here.
We will be getting the party started early and tailgating outside Hancock Whitney Stadium on the campus of the University of South Alabama...giving you a free concert from rising Country artist/viral video star PRISCILLA BLOCK!
Free show with Priscilla Block starts at noon, game kickoff is at 1:30pm. Look for us at the iHeart/95 KSJ tent!
See ya'll there!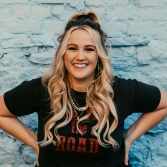 Priscilla Block