The many faces of Robin Williams.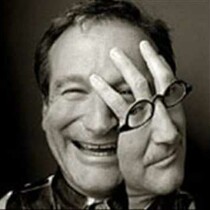 Posted August 13th, 2014 @ 8:29am
Robin Williams singing The Beatles? It did happen and the recording is on YouTube.
In 1998, Williams collaborated with Bay-area jazz singer Bobby McFerrin, of "Don't Worry, Be Happy" fame, on a version of "Come Together" that appeared on a now-obscure tribute album to the Fab Four's producer, George Martin.